Virgil Moise spent a lot of time in 2021 setting up Vitis Care UK Limited. In February 2022 the business became operational and it didn't take long before it was overwhelmed with demand. The Company provides just about everything needed to plant, maintain and harvest a vineyard but its core function is the supply of much needed temporary labour.
Virgil (who is also the CEO) first became interested in Viticulture back in 2009 when he arrived from Romania to pick grapes. He became fascinated by the people that he met along the way and at how different the lifestyles were between the two countries. The interest in viticulture grew and so did his skill at Vineyard Management Services and working for several vineyard establishments over the years enabled him to meet some highly skilled viticulturalists and learn many skills along the way.
As well as running Vitis Care, Virgil is vineyard manager at Blackdown Ridge, which is situated in a beautiful setting within the South Downs National Park.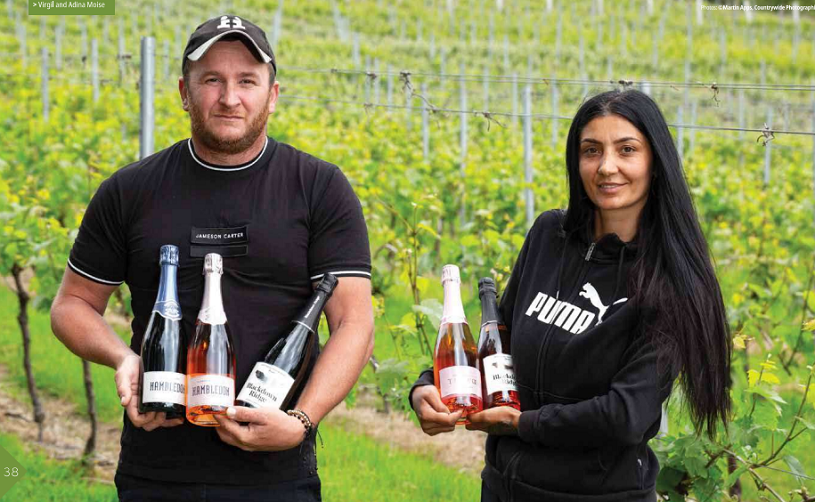 The viticulture industry has grown rapidly over the last several years and, although there are other labour recruitment companies out there Virgil noticed that something was missing…. Vineyard managers were craving consistency and reliability. In a seasonal industry those things were hard to come by and Vitis Care UK Limited wanted to ensure that it provided exceptional service where consistency and reliability were guaranteed for both our clients and its workers.
The main work of the Company is the recruitment and supply labour for vineyards and all types of vineyard work from planting to harvesting and it is devoted to building something that makes people's lives better. Workers are mainly recruited from Romania but there are also English, Portuguese and Bulgarian workers who are all happy to be a part of the 'family'"
Every decision that is made as a company has been driven by the desire to operate in an ethical and socially conscious way. It helped guide the Company's initial growth which operates with three core principles:
1. Treat everyone how they want to be treated;
2. Include people in the conversation, the journey, the vision; and
3. Never ask anyone to do something that we are not prepared to do ourselves, or to stay somewhere we weren't prepared to stay ourselves.
These three fundamental concepts are what the Company lives by and will continue to live by as the business grows.
Until such time as the UK Government and the wine industry adopts a more collaborative approach to labour supply everyone will be fighting for the same transient workforce. It is for this reason that Vitis Care has a clear understanding of its goals by providing exceptional services and taking care of its workers. It also ensures that it works with clients whose values are the same as its own.
The Company continues to grow in spite of the challenges that Vineyards face with labour-supply and there certainly seems to be no shortage of glowing testimonies either:
Hambledon Vineyard, Hampshire.
"Vitis Care understands our desire for attention to detail and high quality work, and this is evident at all levels. We benefit from their open communications, dependability and commitment to deliver"
Tinwood Vineyard, West Sussex
"I have found Vitis Care to be excellent to deal with. They are very responsive and have given me peace of mind that my vineyard is in good hands"
Vitis Care does have very high standards when it comes to welfare of its workers, and the long-term vision for providing quality service but there is also an acknowledgement that there are many challenges ahead facing the English and Welsh wine sector but also many opportunities.
Since Brexit, labour supply to British Vineyards fell to less than 1/3rd of the required levels. Labour availability issues since the end of freedom of movement of EU citizens have been the focus of the industry even before Brexit. Although Vitis Care welcomes domestic workers the majority of its workforce are from Romania but Virgil remains steadfast in his optimistic approach to the future…
Vitis Care are continuously looking to expand its operation and work with new clients it welcomes enquiries from all potential clients so that it can help them maximise their earning potential by providing a consistent supply trained workers among changing seasonal demand. It has a good working relationship with many vineyard operators throughout the south-east of England and can provide them with highly-motivated workers.